Strategic Failure: How President Obama's Drone Warfare, Defense Cuts, and Military Amateurism Have Imperiled America
Unabridged Audiobook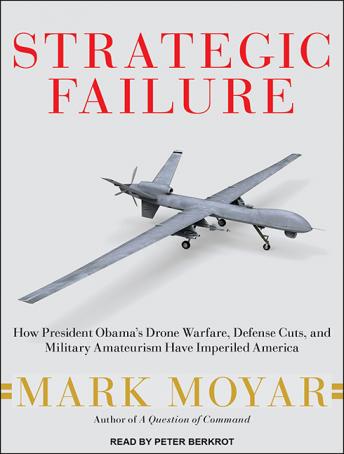 Duration:
12 hours 28 minutes
Summary:
In this stunningly detailed account of U.S. military power in the Obama era, Mark Moyar reveals how Obama's military decisions have led to the international catastrophes of his second term. While the current downward spiral did not become noticeable until 2014, Moyar finds its roots in Obama's first-term decisions to shrink the U.S. military and replace large overseas military commitments with 'light footprints.'

Moyar illustrates how Obama's policies led to the rise of ISIS and how conditions are primed for future cataclysms. He shows how the killing of the U.S. ambassador at Benghazi was the result of a light-footprint approach in Libya and reveals the problems stemming from our reliance on drone strikes. The ongoing military drawdown and international perceptions of Obama's passivity have heightened the risks to America from her enemies.

Drawing upon the lessons of Obama's presidency, Moyar concludes by identifying a better way for U.S. national security in the twenty-first century. Strategic Failure is a timely and fascinating opening salvo in the looming 2016 showdown between Republican and Democratic presidential contenders.
Genres: