Submitting to Two Doms
Unabridged Audiobook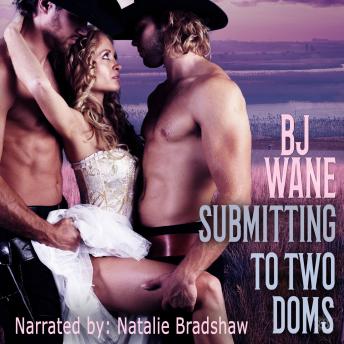 Duration:
7 hours 46 minutes
Summary:
It was meant to be an affair ...

After Kelsey is assaulted, her FBI foster parents plead with her to spend a few weeks with their friends in Montana while they investigate the incident. Since she would do anything for them, she grudgingly agrees, wondering how she will pass the time on a ranch in the middle of nowhere without going stir crazy. As soon as she catches sight of her two hosts, Greg and Devin, she figures: What better way to take her mind off her troubles than with an affair with one of them?

Ex-FBI agents Greg and Devin vowed never to get personally involved with another woman under their protection after their last case ended in tragedy. When their former boss asks for their help, the two best friends butt heads over how to answer him. But what with the insecurity reflected in Kelsey's blue eyes, the desperation behind her flirtations, and discovering her submissive side, both men find themselves succumbing to the petite blonde.

While Kelsey basks in the dominant attention of both her cowboys, she continues to insist she can't wait to get back to her life in Philadelphia. It isn't until the threat against her is verified, the truth comes out about her past, and a few disturbing mishaps occur that Greg and Devin step into full protection mode, vowing to keep the woman they'd both grown to care for safe. And not until after the guys save her life, freeing her to return home, does Kelsey realize home really is where the heart is, and hers is in Montana with her two cowboys.
Genres: