The Subtle Art of Satisfaction: How Not to Die Frustrated (Not Giving a F*ck about Your Human Needs)
Unabridged Audiobook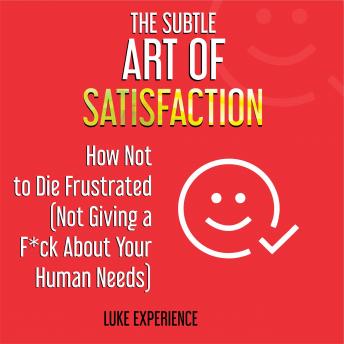 Duration:
3 hours 15 minutes
Summary:
GOLDEN RULE

The subtle art of Satisfaction means giving answers to your natural needs.

Be aware of your needs and fulfill them to live a pleasant and satisfying life.

RULE 1 - TAKE CARE OF YOUR BODY!

The first natural need of every animal is physical security. Never neglect the needs of your body.

RULE 2 - ELIMINATE YOUR FEARS!

Since humans started thinking, their fears went into their head.

Make sure you don't feel afraid of the world.

RULE 3 - SATISFY YOUR NEED OF BELONGING

What is called "social identity" is actually a natural need of feeling part of a group.

Find a place and a community that you really like and create strong bondings to satisfy your 'need of belonging'.

RULE 4 - EMBRACE LOVE AND AVOID HATRED

Feeling appreciated is another natural need of humans and love brings love, while lack of love brings hatred.

Accept and cultivate your needs while building good relationships, so you will give love and you will be loved.

RULE 5 - FEEL ALWAYS FREE TO GROW AND EVOLVE

The ability of thinking is what makes humans unique.

Never feel deprived of the freedom to express or to grow, in order to achieve self- realization.

RULE 6 - FOLLOW YOUR EMOTIONS AND GIVE YOUR CONTRIBUTE!

Emotions are the purest part of what we are and they lead us towards what we care about.

Be always free to experience the emotions you feel and find your way to give your contribute to the people you love.

Want to master all of them?

With 'The Subtle Art of Satisfaction', you can.
Genres: