Success is Inevitable: 17 Laws to Unlock Your Hidden Potential, Skyrocket Your Confidence and Get What You Want from Life
Unabridged Audiobook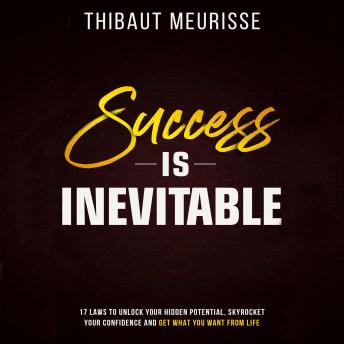 Duration:
4 hours 16 minutes
Summary:
Remove self-doubt and make your success inevitableWhat if you could believe so strongly in yourself that success becomes inevitable for you? 
Imagine if, by mastering specific laws of success, you could achieve any goal you've ever set? 
How would you feel? 
What would you start doing differently? 
In Success is Inevitable, you will discover the ultimate blueprint for success.
You will learn:What success really is and how it worksHow to increase your odds of success dramatically, by harnessing the 4 Fundamental Powers How to build unshakeable self-confidence using the Self-Empowerment TriangleHow to use the 17 Laws of Success to reach any goalHow to stop beating yourself up (and what you can do instead)How to use the Bullet-Proof Timeframe to become extremely resilientThe number one predictor of success everybody must knowThe Million-dollar question you should ask yourself every day.As a bonus, this audiobook will outline the 5 Core Beliefs that could change your life!
Buy this audiobook NOW to remove self-doubt, develop rock-solid confidence, and achieve the success you deserve.
Genres: