Suddenly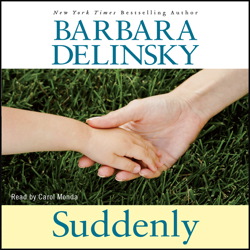 Duration:
15 hours 26 minutes
Summary:
In idyllic Tucker, Vermont, life moves lazily along for Paige Pfeiffer. When her best friend's suicide shatters her complacency, however, Paige is sent reeling and her comfortable world is gone for good. As she struggles with her grief, she is also forced to care for the friend's adopted baby daughter. Her only hope is that some sense of normalcy will return in time.



But with tragedy also comes unexpected joys. A blossoming romance with the head of a private school fills Paige's faltering life with hope and offers her a love that she never thought possible. She explores how one can find meaning in life, even in the aftermath of death.



Barbara Delinsky turns her storytelling skills to this inspiring tale of loss, love, and growth. Listeners can relate as the everyday people in her stories work to overcome seemingly impossible challenges, while finding strength in family, friends, and new life and love.
Genres:
1 of 1 people found this review helpful.