Sweet Giselle
Unabridged Audiobook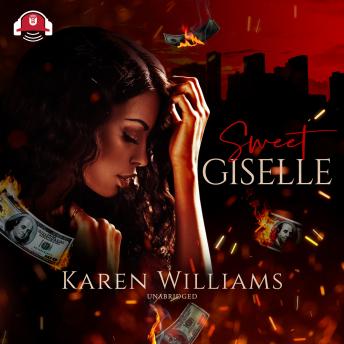 Duration:
8 hours 15 minutes
Summary:
Giselle thinks she has the perfect life. Her fine and sexy husband, Giovanni, is obsessed with his perfect wife and gives her whatever her heart desires. Giselle thinks her husband can do no wrong. What she doesn't know is that his lucrative adult film company is not as legit as it seems, and Giovanni's seedy dealings put his precious wife in danger.

Giselle is kidnapped by a vicious drug dealer named Bryce, who is hell bent on revenge after his sister comes up missing and he believes Giovanni is responsible. Bryce takes the thing he knows Giovanni treasures most. He plans to torture Giselle, but instead he finds himself falling in love with her. He reveals the truth about Giovanni and the news pushes her right into Bryce's arms.

Giovanni wages a war against Bryce and anyone close to him, leaving several dead bodies in his wake. Now that he has his wife back, Giovanni thinks things can return to the way they were. Giselle, however, can't get Bryce out of her system, and continues to see him behind Giovanni's back. As the war between these two men heats up again, Giselle has to decide if being with the man she loves is worth risking her life.
Genres: