Taboo: Daddy Teach Me Everything
A free trial credit cannot be used on this title.
Unabridged Audiobook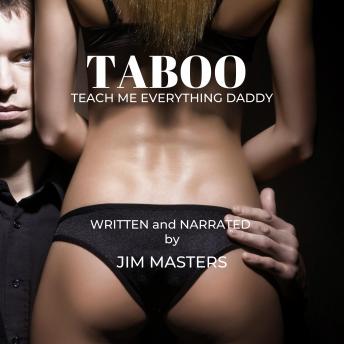 Duration:
0 hours 52 minutes
Summary:
DADDY: TEACH ME EVERYTHING is lust from both eighteen year old virgin Kylie and Joe, her step father. She was 18 when she first saw Joe watching her. Initially he looked at her around the house, when they ate but mainly when she walked around in just her panties and bra. She thought nothing of it at first but realised he would look at her particularly when her mother wasn't there. She knew that he was looking at her as a woman. Yes, she had developed fast in the last few months, thank goodness. She knew she looked good and was getting lots of looks from guys. As first she was shy but now, she often pushed her chest out to accentuate her breasts. "I'm off to work and I'll see you later. You Mom is away on Friday for the weekend.' Action packed. LIsten alone or with your favourite person.
THROUGH THE GLASS EROTICALLY is a short story spoken by me as I watch and imagine: Emmanuelle! your very name conjures up images of a woman who looks so innocent but has a strong sexual desire hidden inside her head waiting to be released. And I think you are that girl; I look at you and see a girl who looks happy and virginal but who I know loves everything about sex that she can get. You have such a lovely smile and amazing eyes. Your body cries out to be given satisfaction. Those breasts are beyond description as they peek out over your dress top as I watch you on screen, sitting in your bedroom, the camera on your face, your body, your all. I have been watching you for 73 minutes. I cannot get enough. And when you show your breasts there is real pleasure in your face. You are a sex exhibitionist and love showing your naked body. When you sat back today showing your full body in that dress that had risen to emphasis your slender legs, my heart banged with pleasure and desire. My imagination is running riot. I want to give you exquisite pleasure. HIghly erotic descriptions. Not suitable for minors.
Genres: