Taboo: The Priests' Passions: Two Short Erotic Stories
Unabridged Audiobook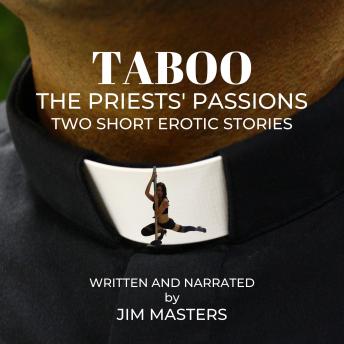 Duration:
0 hours 39 minutes
Summary:
Two more short stories in the Taboo series from Jim Masters. Graphic erotic descriptions unsuitable for minoirs and those who might be offended.
FIRST STORY Father Phillip sat in the confession box listening to the young woman talking. He'd been ordained 10 years and, although not a parish priest yet, he had experienced the role as curate in different towns. He enjoyed what he did but was not happy to be celebrant: he had a strong sexual urge and had hidden it from his colleagues over the years but he had given in on many occasions. In every parish he'd worked, he had found at least two girls, eighteen or nineteen years old, whom he had enjoyed. He soon lost his interest before moving on to the next. Some had been parishioners, other's he'd found in local towns where he removed his dog-collar: so, they never realised he was a priest. Some he'd found during confession and this looked like another opportunity."I didn't do anything to encourage him" she was saying, "I dressed modestly and only let him kiss me at my door before I went inside" "So, what was different?" Phillip asked.
SECOND STORY Father Gerry had lived a lie since he was a teenager and been a choir-boy. Now he was 47 years old and had been a parish priest for 21 years. He was torn between the celibate lifestyle and his passion for raw sex. He often prowled the city after dark, anonymous and without his priest's collar. He was looking for women that would succumb to his passion. He wasn't always lucky, and then he paid. He didn't find this as rewarding. He loved the chase and the final release with another stranger. He had regular women too. Sometimes he just wanted a quick fix and had women with particular likes. So he could choose something he wanted then and there.
BEST LISTENED alone or with your favourite person in bed with wine and scented candles.
Genres: