Tafsir Dan Makna Ayat Kursi (Verse of The Throne) Edisi Bilingual Bahasa Indonesia Dan Bahasa Arab Standar Version
Unabridged Audiobook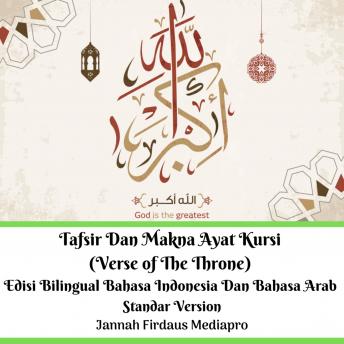 Duration:
0 hours 20 minutes
Summary:
Audiobook Tafsir Dan Makna Ayat Kursi (Verse of The Throne) Edisi Bilingual Bahasa Indonesia Dan Bahasa Arab Standar Version.
Ayat Kursi atau Ayat Singgasana adalah ayat ke-255 dari Surah Al-Baqarah. Ayat ini disebutkan dalam sebuah hadits yang diriwayatkan Ubay bin Ka'ab sebagai ayat paling agung dalam Al Qur'an. Isinya tentang keesaan Allah SWT serta kekuasaan Allah yang mutlak atas segala sesuatu dan bahwa Ia tidak kesulitan sedikitpun dalam memeliharanya.
Allah, tidak ada Tuhan (yang berhak disembah) melainkan Dia Yang Hidup kekal lagi terus menerus mengurus (makhluk-Nya); tidak mengantuk dan tidak tidur. Kepunyaan-Nya apa yang di langit dan di bumi. Tiada yang dapat memberi syafa'at di sisi Allah tanpa izin-Nya? Allah mengetahui apa-apa yang di hadapan mereka dan di belakang mereka, dan mereka tidak mengetahui apa-apa dari ilmu Allah melainkan apa yang dikehendaki-Nya. Kursi Allah meliputi langit dan bumi. Dan Allah tidak merasa berat memelihara keduanya, dan Allah Maha Tinggi lagi Maha Besar. (Ayat KursI Surat Al-Baqarah Ayat 255)
Inilah yang disebut ayat kursi. Ayat ini mengandung suatu hal yang sangat agung. Dan terdapat sebuah hadits shahih dari Rasulullah, yang menyebutkan bahwa ayat tersebut adalah ayat yang paling utama di dalam kitab Allah (Al-Qur'an).
Ayat Al-Kursi often known in English as The Throne Verse is the 255th verse of the 2nd surah of the Quran, Al-Baqarah. The verse speaks about how nothing and nobody is regarded to be comparable to Allah SWT (God). This is one of the best-known verses of The Noble Quran and is widely memorised and displayed in the Islamic world.
Because the Throne Verse is believed to grant spiritual or physical protection, it is often recited by Muslims before setting out on a journey and before going to sleep. Ayat al-Kursi is regarded as one of the most powerful ayahs in The Noble Quran because when it is recited, the greatness of God is believed to be confirmed.
Genres: