Tales from the Odyssey #1
Unabridged Audiobook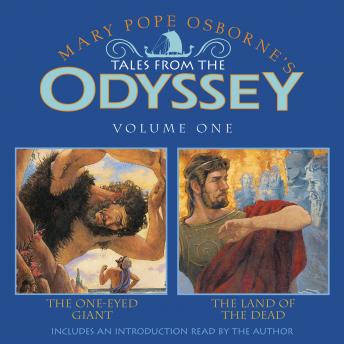 Duration:
1 hours 50 minutes
Summary:
Mary Pope Osborne retells thrilling stories from Homer's Odyssey, one of the greatest epics of all time.

Volume One includes:

Book One: The One-Eyed Giant

When Odysseus must leave his home to fight in the Trojan War, he never imagines that he'll be away from his family for so many years. Now, at long last, he is leading his men across the seas. But many dangers await them -- and none is more terrifying than Polyphemus, the one-eyed giant.

Book Two: The Land of the Dead

Odysseus and his men have defeated the one-eyed giant, but its curse plagues them at every turn. Cast out to the open seas by the wind god, Odysseus and his men face giant cannibals and outwit a beautiful witch, who reveals Odysseus's next challenge -- a journey to the mysterious and feared land of the dead.

Performed by James Simmons.
Genres: