Tales from the Trail
Unabridged Audiobook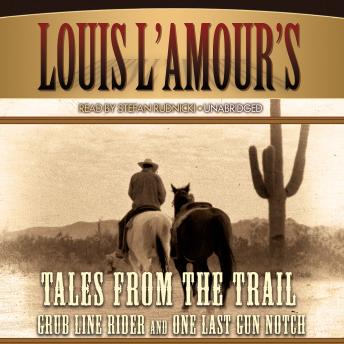 Duration:
1 hours 0 minutes
Summary:
"Grub Line Rider"
Most folks would call Kim Sartain an easygoing, peace-loving man. But the few who crossed the young drifter knew there was nothing he liked better than a good fight. When cattleman Jim Targ challenges Sartain's right to ride across an unclaimed stretch of meadow, Sartain decides he'll do better than ride through; he'll put down stakes there and homestead the land. Soon there's more at risk than land and pride when Targ hires a gunman to teach Sartain a permanent-and deadly-lesson.
"One Last Gun Notch"
Morgan Clyde had been happy working his small ranch until he was driven off of it by a hired gunman. Clyde found odd jobs here and there but soon found himself being hired to use his gun. Now he's working for a land hog in Red Basin who wants a young homesteader and his wife driven off. The scenario is too familiar, and Clyde finds he must make a hard decision.
Genres: