Talon
Unabridged Audiobook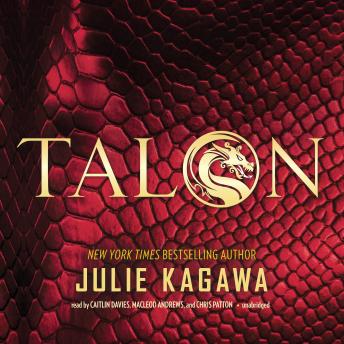 Duration:
12 hours 32 minutes
Summary:
In Julie Kagawa's groundbreaking modern fantasy series,dragons walk among us in human form.
Long ago, dragons were hunted to near extinction by theOrder of St. George, a legendary society of dragon slayers. Hiding in humanform and growing their numbers in secret, the dragons of Talon have becomestrong and cunning, and they're positioned to take over the world with humansnone the wiser.
Ember and Dante Hill are the only sister and brother knownto dragonkind. Trained to infiltrate society, Ember wants to live the teenexperience and enjoy a summer of freedom before taking her destined place inTalon. But destiny is a matter of perspective, and a rogue dragon will soonchallenge everything Ember has been taught. As Ember struggles to accept herfuture, she and her brother are hunted by the Order of St. George.
Soldier Garret Xavier Sebastian has a mission to seek anddestroy all dragons, and Talon's newest recruits in particular. But he cannotkill unless he is certain he has found his prey-and nothing is certain aboutEmber Hill. Faced with Ember's bravery, confidence, and all-too-human desires,Garret begins to question everything that the order has ingrained in him-andwhat he might be willing to give up to find the truth about dragons.
Genres:
1 of 1 people found this review helpful.

1 of 1 people found this review helpful.