Target Tirpitz: X-Craft, Agents and Dambusters - The Epic Quest to Destroy Hitler's Mightiest Warship
Unabridged Audiobook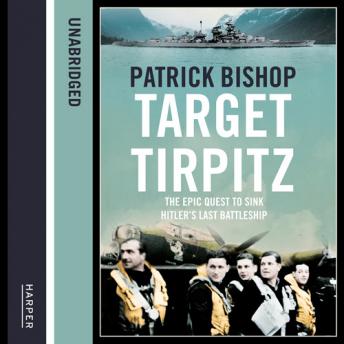 Duration:
15 hours 38 minutes
Summary:
Target Tirpitz is gripping WW2 storytelling at its best and a return to the RAF territory of Patrick Bishop's bestselling Bomber Boys and Fighter Boys.


The Tirpitz, Hitler's greatest weapon, was reputed to be unsinkable and the battleship inflamed an Allied obsession: to destroy her at any cost.


More than thirty daring operations were launched against the 52,000 ton monster. Royal Navy midget submarines carried out an attack of extraordinary skill and courage against her when she lay deep in a Norwegian fjord in an operation that won VCs for two participants.


No permanent damage was done and the Fleet Air Arm was forced to launch full scale attacks through the summer of 1944 to try and finish her off. But still the Tirpitz remained a significant threat to Allied operations.


It was not until November 1944 that a brilliant operation by RAF Lancaster Bombers, under the command of one of Britain's greatest but least-known war heroes finally killed off Hitler's last battleship.


Full of colour, insight and drama, Target Tirpitz is an unputdownable account of one of the great epics of the Second World War.
Genres: