Tarzan: Return to Pal-ul-don
Unabridged Audiobook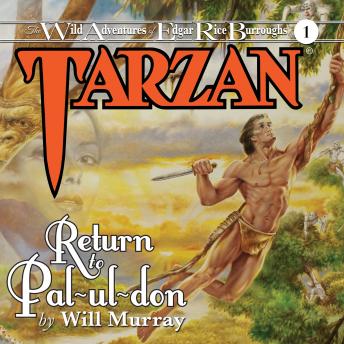 Duration:
13 hours 13 minutes
Summary:
With the African continent engulfed by World War II, John Clayton, Lord Greystoke, abandons his role as Lord of the Jungle in order to combat the spreading Nazi menace. Flying a P-40 Tomahawk warplane, Clayton is sent on his first mission: to rescue the missing British Military Intelligence officer code-named Ilex. But the daring task plunges him into his savage past after he's forced down in a lost land that seems hauntingly familiar. When Tarzan of the Apes returns to the prehistoric realm called Pal-ul-don, he must revert to his most savage persona, that of Tarzan-jad-guru––Tarzan the Terrible!
 
THE WILD ADVENTURES OF EDGAR RICE BURROUGHS
In the Wild Adventures of Edgar Rice Burroughs series, today's authors innovate and expand upon Burroughs' classic tales of wonder in truly wild fashion, even moving his characters and storylines outside the bounds of canon to alternate universes!
 
℗ 2022 Oasis Audio and © 2015 Edgar Rice Burroughs, Inc. All Rights Reserved. Trademarks Tarzan®, Tarzan of the Apes™, Lord of the Jungle®, John Clayton™, Lord Greystoke™,  Pal-ul-don™, Edgar Rice Burroughs®, and The Wild Adventures of Edgar Rice Burroughs™ Owned by Edgar Rice Burroughs, Inc. Logos, characters, names, and the distinctive likenesses thereof are trademarks or registered trademarks of ERB, Inc. Used by Permission.
 
Genres: