Texas Tornado
Unabridged Audiobook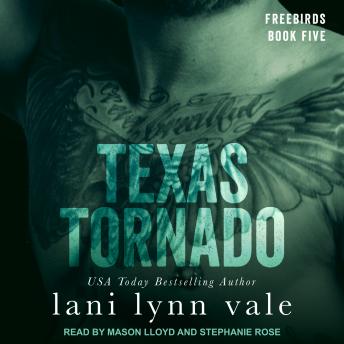 Duration:
9 hours 29 minutes
Summary:
James had plans for his life. Those plans were derailed by the surprise arrival of his daughter. His life revolved around her. Then she arrived with her beautiful brown hair that was made to wrap around his wrist, and a butt that was to die for in a tight pair of jeans. Nevertheless, he didn't need any more drama in his life. Yet, there was something about her that soothed his soul.

Shiloh's made it her life's mission to protect the innocent children she can from the big, bad, scary things that lurk in the darkness. She has an inane curiosity for life and craves knowledge. Which is why when she starts poking around in her father's business, she inadvertently starts something in to motion that threatens her very existence. Her father, the one man that was always supposed to be there for her, drops her off with a brother she never knew she had and leaves.

Then she meets him, and she doesn't think her life's so bad after all. The sexy biker turned SWAT officer sets her nerve cells to igniting, and she relishes in every single second of it.

He knew life could change in an instant. One soul crushing instant.

Contains mature themes.
Genres: