The Land of the Silver Apples
Unabridged Audiobook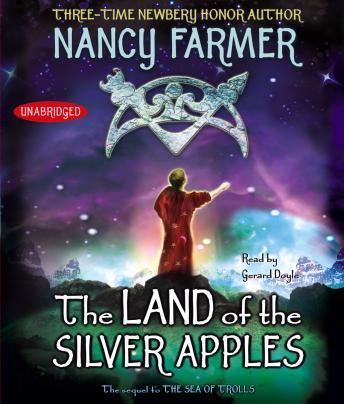 Duration:
13 hours 30 minutes
Summary:
"Like the druidic life force Jack taps, this hearty adventure, as personal as it is epic, will cradle readers in the 'hollow of its hand' (Booklist, starred review).

Jack has caused an earthquake. He was trying to save his sister Lucy from being thrown down a well, but sometimes the magic doesn't quite work out. Not only does Jack demolish a monastery, but Lucy is carried off by the Lady of the Lake, and Jack has to follow her through the Hollow Road, which lies underground.

Aided by Pega, a slave, and the berserker Thorgil, Jack encounters hobgoblins, kelpies, yarthkins, and elves—not the enchanted sprites one would expect, but fallen angels who steal human children for pets. In the eighth century, the world is caught between belief in the Old Gods and Christianity, and what Jack and his companions do will decide the fate of both religions.

From National Book Award winner Nancy Farmer, this second book in the Sea of Trolls trilogy brilliantly enlarges the world of the first story. Look for the conclusion in The Islands of the Blessed.
Genres: