Their Virgin Concubine
Unabridged Audiobook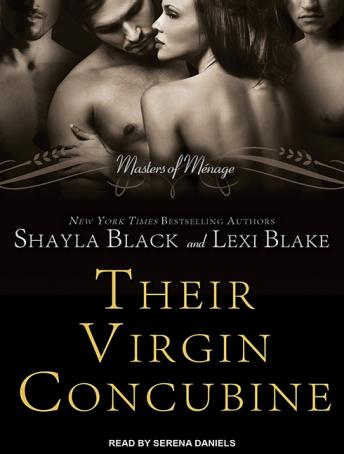 Duration:
9 hours 38 minutes
Summary:
Piper Glen is thrilled when Rafe and Kade al Mussad ask her to visit their country on a business trip. Madly attracted to both, the virginal secretary knows that neither of her intensely handsome bosses desires her. But every night she dreams of having them both in her bed, fulfilling her every need.

Rafe and Kade have finally found the perfect woman in Piper. Sweet and funny. Intelligent and strong. Before they can reveal their feelings, the brothers must fulfill an ancient tradition. Every sheikh must steal his bride and share her with his brothers. They have thirty days to convince Piper to love them all forever.

Sheikh Talib al Mussad knows his villainous cousin seeks to take his throne. If Talib and his brothers fail to convince the beautiful Piper to love them, all will be lost. After meeting Piper, he knows he would risk everything to possess her heart.

Khalil al Bashir has long coveted his cousin's rule. Without a bride to seal their birthright, his every wish will come true. If Piper falls for them, he will lose everything, but Piper can't love them if she's dead...
Genres: