The Thief: Isaac Bell #5
Unabridged Audiobook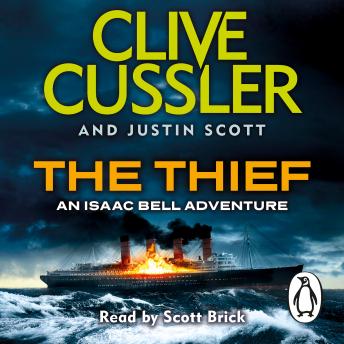 Duration:
9 hours 51 minutes
Summary:
Penguin presents the unabridged, downloadable, audiobook edition of The Thief by Clive Cussler and Justin Scott, read by Scott Brick.

Aboard the liner Mauretania, Isaac Bell, chief investigator at legendary Van Dorn Detective Agency, thwarts a kidnapping. The victims, who have fled Europe carrying a secret invention, fear a foreign power will steal it before they reach America.

Bell offers to protect them.

Soon, Bell is fighting skulduggery in the middle of the Atlantic. Heading for California, the chase is on. On their trail is the murderous 'Acrobat', instructed to steal this world-changing invention - and kill anyone in his way...
Genres: