The Third Brother
Unabridged Audiobook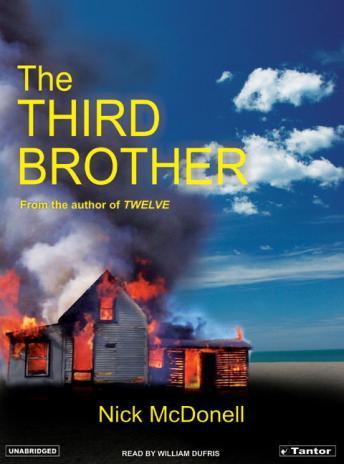 Duration:
6 hours 0 minutes
Summary:
The highly anticipated second novel from the author of the internationally best-selling Twelve

Nick McDonell's Twelve created a sensation around the world, establishing its seventeen-year-old author as one of the new and important voices of his generation. The book sold over 300,000 copies, was published in twenty-four countries, and was hailed by The New York Times as 'fast as speed, relentless as acid.' The Third Brother is his highly anticipated second novel.

'The story is backpacker kids going to Bangkok to do ecstasy,' Analect says. 'Just don't get arrested.' Mike is interning in Hong Kong when his editor, a friend of his father's, gives him the assignment, and a mission: find Christopher Dorr, a brilliant journalist gone AWOL. So begins a propulsive journey that will take a young man grasping after his identity headlong through fast nights in Thailand, into the grip of family tragedy, and into the heart of September 11, 2001. Along the way he encounters a kaleidoscope of characters-the Flying Circus, a hard-living band of journalists trying to expose the Thai government's murderous repression of drug dealers; Tweety, an inexplicably alluring prostitute hungry to leave her world of poverty and desperation; and the third brother, a mysterious, imaginary sibling created by Mike's haunted older brother.

Through it all, Mike must come to terms with the legacies of his troubled family and privileged upbringing. 'He knew that if you grow up with money, you don't think about being rich and that the same is probably true of courage. But if you grow up with lies, you find out that some lies become true. Mike knew this and so did not lie. Except to himself, about his parents.' The Third Brother moves with the speed and purpose of a bullet through the complexities of life in a Third-World capital of illicit hedonism, to the unspeakable horror of 9/11, and to the polished life of academia, offering a devastating portrait of a family caught between love and turmoil, and of a young man stretching to come to terms with his past and to find his future.
Genres: