This Searing Light, the Sun and Everything Else: Joy Division: The Oral History
Unabridged Audiobook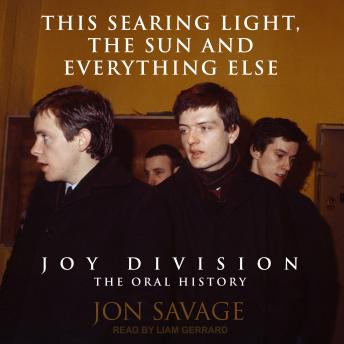 Duration:
9 hours 49 minutes
Summary:
An exciting new book on Joy Division, featuring never before told stories.

Jon Savage's oral history of Joy Division is the last word on the band that ended with the suicide of Ian Curtis in Macclesfield on May 18, 1980. It weaves together interviews conducted by the author, but never used in the making of the film Joy Division, which told the story of the band in their own words, as well as those of their peers, collaborators, and contemporaries.

Here are fifteen or so vivid witnesses to the band's genesis, meteoric rise, and tragic demise, including Peter Hook, Bernard Sumner, Annike Honore, Deborah Curtis, Paul Morley, Tony Wilson, Rob Gretton, Martin Hannet . . . It is the story of young men driven to create and cause rock 'n' roll havoc inspired by literature, radical ideas, and the wasteland that was post-industrial Manchester in the late '70s. It is as intense and funny and alive as only an oral history can be, recalling masterpieces like Edie by Jean Stein and Meet me in the Bathroom by Lizzy Goodman. It is essential listening.
Genres: