THREADS WEST SERIES: An American Saga-Book One
Unabridged Audiobook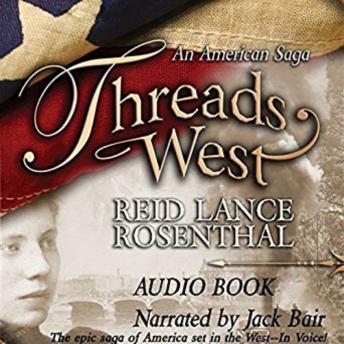 Duration:
8 hours 27 minutes
Summary:
Book One - the #1 bestselling Threads West--winner of twenty-five national awards in the categories of Historical Fiction, Romance and Western. This is the namesake novel of the sweeping Threads West, An American Saga multi-era series compared by reviewers and authors to Lonesome Dove, Centennial, and Louis L'Amour. Called by some ''The Gone With The Wind of the West'' and applauded by others as ''rings true and poignant, as authentic and moving as Dances with Wolves.'' The tale bursts with the adventure, romance, and promise of historical America and the West. You will recognize the characters who live in these pages.
They are the ancestors of your friends, your neighbors, your co-workers, and your family.
They are you. They are us.
This is not only their story. It is our story.
The epic saga of Threads West, An American Saga begins in 1854 with the first of five, richly textured, complex generations of unforgettable, multicultural characters. The separate lives of these driven men and independent women from Europe and America are drawn to a common destiny that beckons seductively from the wild and remote flanks of the American West. Swept into the dangerous currents of the far-distant frontier by the mysterious rivers of fate, the power of the land and the American spirit, their journeys are turbulent quests intertwined with romance and adversity, passions and pathos, despair and triumph.
One thousand miles to the west of St. Louis lies the lawless untamed spine of the continent, the Rocky Mountains. Their energy draws this vanguard of generations to love and struggle in the beautifully vibrant but unforgiving landscape of the West. The personal conflicts inherent to these brave, passion-filled characters are exacerbated by a nation in transition, the budding enmity between North and South, broken treaties with Native Americans and the accelerating melting pot of diverse cultures that marks this magical moment in American history.
Genres: