Through Dust and Darkness: A Motorcycle Journey of Fear and Faith in the Middle East
A free trial credit cannot be used on this title.
Unabridged Audiobook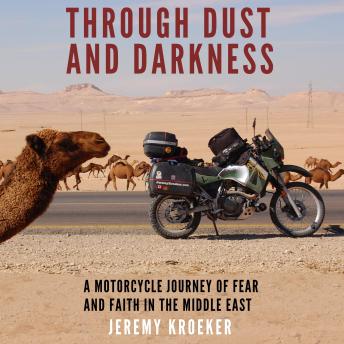 Duration:
7 hours 8 minutes
Summary:
Jeremy Kroeker is a Mennonite with a motorcycle. When his seemingly unflinching faith in a Christian world view begins to shift, he hops on his bike to seek answers. After shipping his ride to Europe, Kroeker discovers that the machine now wobbles worse than his own opinions about spirituality. Still, he carries on, through Germany, Austria, Croatia, Albania, and into the Middle East: Turkey, Syria, Lebanon, and ultimately the theocratic nation of Iran.

It is there that Kroeker takes a forbidden visit to a holy Muslim shrine. Once he is inside, invisible hands rip from his heart a sincere prayer, his first in many years. And God hears that prayer. For before Kroeker can escape Iran, God steals into his hotel room one night to threaten him with death. At least, that's one way to look at it.
Genres: