TikTok User Guide: The Ultimate Guide to TikTok Marketing, Learn Effective Strategies on How to Leverage Your TikTok Account to Earn Massive Profits
Unabridged Audiobook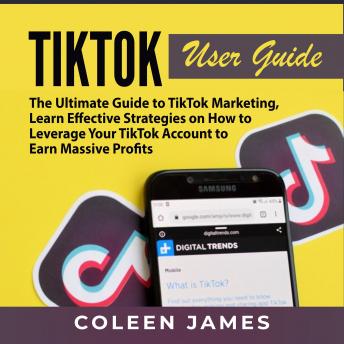 Duration:
0 hours 20 minutes
Summary:
TikTok User Guide: The Ultimate Guide to TikTok Marketing, Learn Effective Strategies on How to Leverage Your TikTok Account to Earn Massive Profits

The TikTok social media platform has seen explosive growth over the last two years. It now has 500 million users that are desperate for fun and exciting content and this is a massive opportunity for you to promote your business. To be successful with TikTok marketing you need to know how the platform works and how the users interact with each other. TikTok appeals to a younger demographic and you really need to speak their language to be successful. This guide will explain all you need to know about TikTok to create successful marketing campaigns.

If you are unfamiliar with this platform, no need to worry because this audiobook will teach you everything you need to know about TikTok. You will also learn how you can use TikTok to market your business successfully. Engagement with the TikTok user base is essential and this audiobook will show you how to achieve that.

This audiobook will discuss the following topics:

- What is TikTok and Why Should You Care?

- Getting Started with TikTok

- Creating Content for TikTok

- TikTok Hashtags

- Marketing Strategies for TikTok

-TikTok Ads

- TikTok Use Cases To Inspire You

- TikTok Analytics

- TikTok Best Practices

- And many more!

There are a number of businesses and organizations that have already leveraged the TikTok platform to get the word out and have achieved massive success but there are those who failed as well. We don't want you to fail so in order to learn more, scroll up and click "add to cart" now!
Genres: