'Til Death
Unabridged Audiobook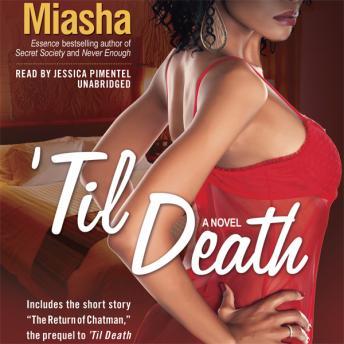 Duration:
7 hours 53 minutes
Summary:
Bonus feature: Includes the short story The Return of Chatman, the bonus prequel to 'Til Death

After being shot and nearly killed, Celess imagined she'd put her habit of courting danger behind her. But a chance meeting with fellow daredevil Sienna quickly changes Celess' plans. She jumps back into the fire of risky enterprise, putting her life on the line in pursuit of big bucks and high-style living, but Celess can't help but wonder how much longer she can elude the dire consequences.

Picking up where Never Enough left off, Celess is thrust back into the sex trade, guided by her friend Sienna. Celess and Sienna's venture grows into a lucrative and thriving business and becomes one of the world's largest, fastest-growing escort services. But as they have witnessed in their pasts, the climb to the top is studded with people who aim to knock them back down, and though they are well prepared for the betrayals that await them, they have no idea just where they will come from.

'Til Death brilliantly blends the wild, enticing ride of Sistah for Sale with the shocking and jaw-dropping twists in Secret Society to give readers the action, drama, intrigue, and blazing element of surprise they've come to expect from Miasha.

The Return of Chatman

A notorious self-made millionaire who made his fortune in the sex trade breaks out of prison to get revenge against his one-time top girl, Sienna, who set him up and brought his empire down. Known for his ruthlessness, Chatman is hardly ever crossed by anyone, but when and if he is, his wrath is felt. In The Return of Chatman, Chatman is on a murder rampage as he tracks down his nemesis, Sienna, killing anybody who stands between them.

The Return of Chatman is a bonus prequel to Miasha's long-awaited novel, 'Til Death. Delivering the page-turning scenarios Miasha is known for, it will give fans more than they expect.
Genres: