The Time Quake: #3 in the Gideon Triliogy
Unabridged Audiobook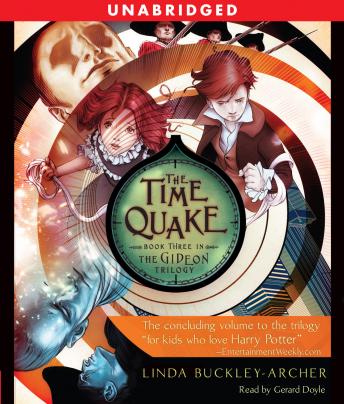 Duration:
12 hours 20 minutes
Summary:
Time ItseLf is SpLIntERINg.

Abducted to 1763, Peter Schock and Kate Dyer begin to understand that history has reached a tipping point. The antigravity machine is in the hands of the cruel and ambitious Lord Luxon -- who has set his sights on the most valuable prize of all: America. He is determined to manipulate time to his advantage, no matter what the cost.

And the cost is great indeed. As Lord Luxon changes more and more of the past for his own gain, terrible time quakes begin to sweep through all of history. Kate Dyer, adrift in time and suffering from an overexposure to time travel, knows that if Lord Luxon is not stopped, the time quakes will tear the universe apart.

Meanwhile Gideon and Peter hunt for their enemy, the Tar Man, in the dark streets of eighteenth-century London, and Peter begins to realize that he may hold the fate of the world in his hands.

The stunning conclusion to the critically acclaimed Gideon trilogy finally reveals the fates of Peter, Kate, Gideon, and the universe itself. This long-awaited book lives up to the promise of The Time Travelers and The Time Thief, delivering a rousing historical adventure that will have readers of all ages on the edge of their seats.
Genres: