Timon of Athens
Unabridged Audiobook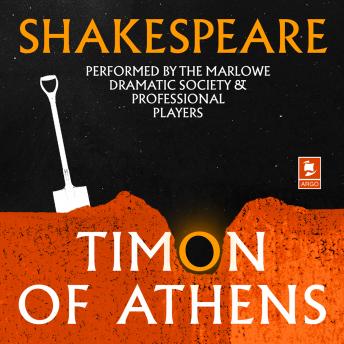 Duration:
2 hours 6 minutes
Summary:
William Collins Books and Decca Records are proud to present ARGO Classics, a historic catalogue of classic prose and verse read by some of the world's most renowned voices. Originally released as vinyl records, these expertly remastered stories are now available to download for the first time.


'The moon's an arrant thief, And her pale fire she snatches from the sun.'


The story of Shakespeare's sharp satire on wealth, greed and betrayal.


Wealthy and popular, Timon of Athens helps his friends, gives many gifts, and holds a feast. After ignoring his true friends' warnings, Timon runs out of money, and none of his 'friends' will help him. He runs away to a cave where he curses humanity, finds gold, funds someone to destroy Athens, and dies.


All of the Shakespeare plays within the ARGO Classics catalogue are performed by the Marlowe Dramatic Society and Professional Players. The Marlowe was founded in 1907 with a mission to focus on effective delivery of verse, respect the integrity of texts, and rescue neglected plays by Shakespeare's contemporaries and the less performed plays of Shakespeare himself. The Marlowe has performed annually at Cambridge Arts Theatre since its opening in 1936 and continues to produce some of the finest actors of their generations.


Thurston Dart, Professor of Music at London University and a Fellow of Jesus College Cambridge, directed the music for this production.


The full cast includes: William Squire; Corin Redgrave; Donald Beves; David Rowe-Beddoe; Michael Burrell; Anthony White; Peter Woodthorpe; John Wood; Derek Jacobi; Peter Foster; Philip Strick; Trevor Nunn; Terrence Hardiman; David Coombes; Anthony Arlidge; Philip Strick; John Sharp; Gary O'Connor; Eric Rump; Tom Bussmann; Richard Kay; Corin Redgrave; Jill Daltry; Elizabeth Proud.
Genres: