To Rescue A Princess
Unabridged Audiobook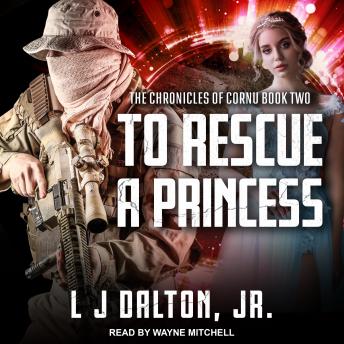 Duration:
11 hours 34 minutes
Summary:
During Mike's hike in the Adirondacks, he'd managed to come across something that sent him from earth to this new world Cornu. He noticed what could only be McCormick reapers and Amish plows.

He had just rescued a village from Bart's Bandits. A beautiful young woman Alania had helped him by distracting the guards. What he didn't know was that she was trying to get pregnant and had succeeded.

He also had to deal with one beautiful Royal Princess. Princess Catrina was looking to get betrothed, and when she met Mike, she knew that he would do nicely. He couldn't honestly get involved with a lovely young girl and then leave.

That's not how she saw the situation. But she was a Princess, and he was worried that her father, the Crown Prince, and her grandfather, the King, might have something to say about it. And he was worried that wouldn't be good for one Michael Mulvaney.

A culture and language he didn't understand. Bandits and assassins out to kill the royal family and him as well. A beautiful Princess who was bound and determined to have Mike as a husband. He knew that he wanted her as badly as she wanted him. But as far as he could see, that was a very bad idea.

Contains mature themes.
Genres: