To Taste Temptation
Unabridged Audiobook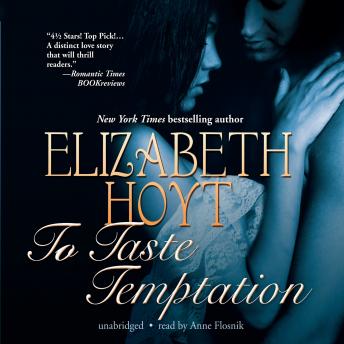 Duration:
9 hours 57 minutes
Summary:
Even the most refined lady craves an untamed man to releaseher passion.
Britain's high society-le bon ton-loves nothing morethan a good scandal, and they're giddy with the appearance of wealthy SamuelHartley. Not only is he self-made, American, and in the habit of wearingmoccasins, but he is also notorious for fleeing a battle in which severalEnglish gentlemen lost their lives. What le bon ton doesn'tknow, though, is that Samuel is in London because of thismassacre. He believes his regiment was given up to the enemy and won't restuntil he finds the traitor.
Lady Emeline Gordon is captivated by Samuel. Not only doeshe defy convention with his unusual dress, his sensual smile, and hisforthright manner, but he survived the battle that killed her beloved brother.Samuel suspects that the person responsible for her brother's death is JasperRenshaw, Viscount Vale, a family friend since childhood and Emeline's fiancé.Despite Emeline's belief in Vale's innocence and her refusal to break off herbetrothal, she and Samuel begin a passionate affair. But can their relationshipsurvive the fallout from Samuel's investigation?
Genres: