The Tommyknockers
Unabridged Audiobook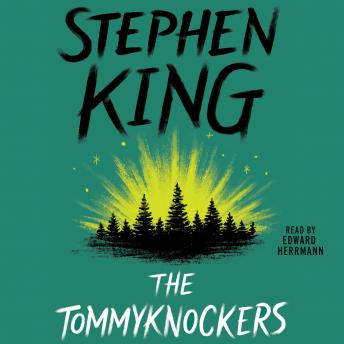 Duration:
27 hours 41 minutes
Summary:
Master storyteller Stephen King presents the classic, terrifying #1 New York Times bestseller about a terrifying otherworldly discovery and the effects it has a on a small town.

"Late last night and the night before, Tommyknockers, Tommyknockers, knocking at the door…"

On a beautiful June day, while walking deep in the woods on her property in Haven, Maine, Bobbi Anderson quite literally stumbles over her own destiny and that of the entire town. For the dull gray metal protrusion she discovers in the ground is part of a mysterious and massive metal object, one that may have been buried there for millennia. Bobbi can't help but become obsessed and try to dig it out…the consequences of which will affect and transmute every citizen of Haven, young and old. It means unleashing extraordinary powers beyond those of mere mortals—and certain death for any and all outsiders. An alien hell has now invaded this small New England town…an aggressive and violent malignancy devoid of any mercy or sanity…

"Wonderful creeping terror…a great storyteller!"—The New York Times Book Review

"Brilliant, riveting, marvelous."—Boston Globe

"King at his best!" —San Francisco Chronicle
Genres:
3 of 3 people found this review helpful.

1 of 1 people found this review helpful.

1 of 1 people found this review helpful.