Tonight I Said Goodbye: A Lincoln Perry Mystery
Unabridged Audiobook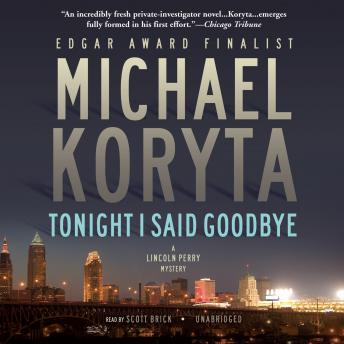 Duration:
10 hours 42 minutes
Summary:
This is the remarkable debut mystery from the award-winning author of the 2003 St. Martin's Press/Private Eye Writers of America Prize for Best First Private Eye Novel.

Investigator Wayne Weston is found dead of an apparent suicide in his home in an upscale Cleveland suburb, and his wife and six-year-old daughter are missing. Weston's father insists that private investigators Lincoln Perry and Joe Pritchard take the case to exonerate his son and find his granddaughter and daughter-in-law. As they begin to work, they discover there is much more to the situation than has been described in the prevalent media reports. There are rumors of gambling debts and extortion, and a group of Russians with ties to organized crime who don't appreciate being investigated—a point they make clear with baseball bats.

With some assistance from newspaper reporter Amy Ambrose, Perry and Pritchard believe they are making swift progress. But then they are warned off the investigation by a millionaire real estate tycoon and the FBI. Just when they feel they are closing in on a possible source of answers, another murder forces them to change direction in the case.
Genres: