Topsy: The Startling Story of the Crooked-Tailed Elephant, P. T. Barnum, and the American Wizard, Thomas Edison
Unabridged Audiobook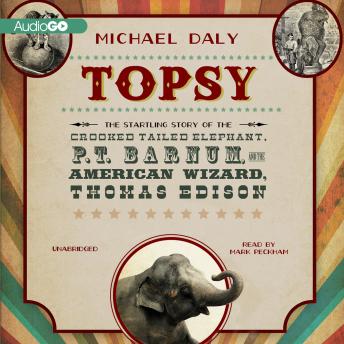 Duration:
11 hours 18 minutes
Summary:
In 1903 at the soon-to-open Luna Park on Coney Island, anelephant named Topsy was electrocuted, likely with advice from Thomas Edison,whose film crew recorded the horrible event. Over the past century, thisbizarre, ghoulish execution has reverberated through popular culture with thering of an urban legend. But it really happened, and today, Edison's footagecan be found on YouTube, where it has been viewed nearly two million times.
Many historical forces conspired to bring Topsy, Edison, andthose 6,600 volts of alternating current together at Coney Island that day.Journalist Michael Daly's Topsy is a fascinating popular history thattraces them, from the rise of the circus in America and the lives of circuselephants, through Thomas Edison, George Westinghouse, and the war of thecurrents, to the birth of Coney Island.
Throughout the book, Daly follows Topsy's picaresquelife up to the point of her death, from her capture, the roar of the crowd,life on the endless road, and the tormenting of her trainers, weaving her talethrough other big stories such as P. T. Barnum and Adam Forepaugh's circusrivalry, trainers Stewart Craven and Eph Thompson's kindness to the animals,and Thomas Edison's attempt to prove alternating current was far more dangerousthan his direct current. It's a touching tale, and it is impossible to read Topsyand look at the circus, elephants, or Thomas Edison the same way again. Aboveall, Topsy is an entertaining read that brings to life this remarkableworld and its characters.
Genres: