Totally Undressed...In Front of Our Guests!
Unabridged Audiobook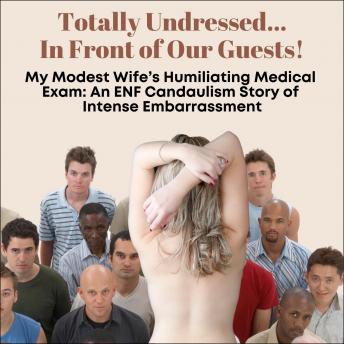 Duration:
0 hours 43 minutes
Summary:
Totally Undressed...In Front of Our Guests! My Modest Wife's Humiliating Medical Exam: An ENF Candaulism Story of Intense Embarrassment. Owen Campbell loves his wife, Diana, to the moon and back. That's why he went all out in throwing her a retirement party for her to celebrate her thirty years as an elementary school teacher. He even rented a snazzy hotel function room to accommodate dozens of her friends and coworkers.

If only...

If only he could help Diana with her "problem." Ever since she was a teen, when she loused up at a piano recital, she has suffered from stage-fright to such a degree that it impacts her entire life. Even in the bedroom, Diana has never been able to fully offer her body to Owen beyond basic under-the-covers-lights-out lovemaking.

And even today, at her own party, she's sweating bullets standing in the front of the room as her principal lavishes praise after praise upon her. When she returns to their table, she looks even worse.

Poor Diana.

But when she suddenly doubles over in pain, Owen realizes that this isn't just stage-fright working here. She needs help right away. Thankfully, the hotel has a staff physician who hurries in and takes charge.

Oh, this belligerent Russian, Dr. Ivanov, takes charge all right! Showing no respect whatsoever for her modesty, he proceeds to examine her right there...in a roomful of her guests!

And this examination is quite unclothed and quite intimate!

Now, Owen has a dilemma: Feel terrible that his wife is being put through humiliation on an almost incomprehensible scale. Or...

Feel intense jealousy that this doctor is being allowed to do things to Diana that he would never have been allowed to do. Or...

Feel more aroused than he's ever felt in his life as Diana's body becomes increasingly exposed and flagrantly explored!

Poor Diana-she is so embarrassed.

Poor Owen-he is so confused.

Not to worry. Later on, Owen figures out a way to parlay Diana's dehumanizing experience into the thrill of his life! And Diana's, too!

Fans of ENF, CMNF, gyno medical humiliation stories featuring the world's most painfully shy women in the most debasing situations imaginable-this one's for you!
Genres: