Touching Spirit Bear
Unabridged Audiobook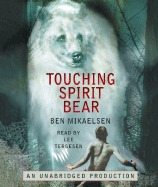 Duration:
5 hours 52 minutes
Summary:
Within Cole Matthews lies anger, rage, and hate. Cole has been stealing and fighting for years.  This time he caught Peter Driscal in the parking lot and smashed his head against the sidewalk.  Now, Peter may have permanent brain damage–and Cole is in the biggest trouble of his life.

Cole receives a one-year banishment to a remote Alaskan island. There, he is mauled by a mysterious white bear of Native American legend.  Hideously injured, Cole waits for death. His thoughts shift from anger to humility. To survive, he must stop blaming others and take responsibility for his life.  Rescuers arrive to save Cole's body, but it is the attack of the Spirit Bear that may save his soul.
Genres:
2 of 2 people found this review helpful.

1 of 1 people found this review helpful.