Troilus and Cressida
Unabridged Audiobook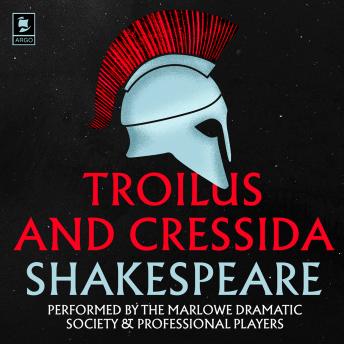 Duration:
3 hours 10 minutes
Summary:
William Collins Books and Decca Records are proud to present ARGO Classics, a historic catalogue of classic prose and verse read by some of the world's most renowned voices. Originally released as vinyl records, these expertly remastered stories are now available to download for the first time.


'He eats nothing but doves, love, and that breeds hot blood, and hot blood beget hot thoughts, and hot thoughts beget hot deeds, and hot deeds is love.'


Shakespeare's epic tale of war, love and loss


Trojan prince Troilus falls in love with Cressida, as war rages around them. After vowing to be faithful, Cressida is traded to the Greek camp, where she then agrees to see another man. Troilus witnesses Cressida's unfaithfulness and vows to put more effort into the war. The play ends after further deaths on both sides, and with no resolution in sight.


All of the Shakespeare plays within the ARGO Classics catalogue are performed by the Marlowe Dramatic Society and Professional Players. The Marlowe was founded in 1907 with a mission to focus on effective delivery of verse, respect the integrity of texts, and rescue neglected plays by Shakespeare's contemporaries and the less performed plays of Shakespeare himself. The Marlowe has performed annually at Cambridge Arts Theatre since its opening in 1936 and continues to produce some of the finest actors of their generations.


Thurston Dart, Professor of Music at London University and a Fellow of Jesus College Cambridge, directed the music for this production.


The full cast includes:John Sheppard; Gary Watson; Anthony White; Julian Pettifer; John Barton; David Gibson; Clive Swift; Donald Beves; John Wilders; Noel Annan; James Taylor‑Whitehead; Tony Church; George Rylands; John Barton; John Arnott; David Buck; Peter Woodthorpe; Anthony Jacobs; Wendy Gifford; Christine Baker; Dorothy Mulcahy; Irene Worth.
Genres: