Trucking Business Secrets: How to Start, Grow, and Succeed in Your Trucking Business
A free trial credit cannot be used on this title.
Unabridged Audiobook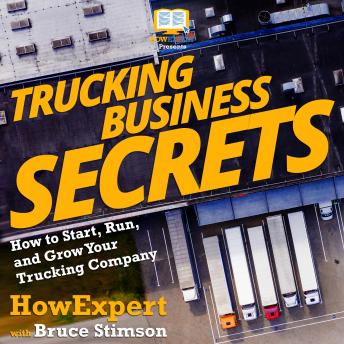 Duration:
1 hours 7 minutes
Summary:
You definitely want to have a good guide on everything you need to succeed in the trucking business industry. This book will keep you out of trouble in all facets trucking business. The trucking industry has the luxury of being able to recover from small miscues, but not many of books out there go the the length this book goes to discuss matters Trucking. In this book you'll learn.!

• Define The Role Of The Broker And Agent

• Here's How The Industry Works

• Why Get Operating Authority

• Financial

• Shipping Own Product

• More Home Time

• Region And Customers

• The Money In Trucking

• Abide By The Industry's Standards

• Satisfy The Steps To Become An Agent

• Understand The Industry's Work Environment

• Familiarize Yourself With Industry Terms

• Build The Steps To Become A Broker

• Consider The Big Picture

• What You Can Expect

• Mechanical Problems

• Regulatory Problems

• Financial Problems

• Communication Problems

• What To Spend (Or Not Spend) Money On

• Good Investments

• Bad Investments

• Step Nine Discover Self Pace & Time Management Success

About the Expert

Bruce Stimson started his factoring career in 2001, when he founded QLFS, which eventually became the Invoice Trucking Group. Mr. Stimson led the firm through its initial growth and established it as a leading provider to startups and small companies in the New England region.After QLFS, Mr. Stimson launched Trucking Capital LLC to provide services in the USA, Canada and Australia.

HowExpert publishes quick 'how to' guides on all topics from A to Z by everyday experts.
Genres: