Trust Your Animal Instincts: Recharge Your Life & Ignite Your Power
A free trial credit cannot be used on this title.
Unabridged Audiobook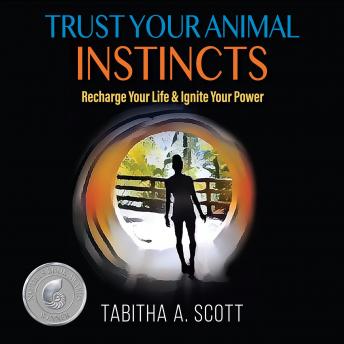 Duration:
8 hours 15 minutes
Summary:
'A potentially life-changing, life-enhancing, life-celebrating instructional guide...' - Midwest Book Review 

Feeling disconnected, burned out, or seeking purpose? 

Exhausted from the burnout of trying to please everyone, including herself, Tabitha Scott quit her job, gave away most of her belongings, and lived near a remote jungle in Costa Rica. Teetering between the wilderness there and the real-world back home, a clarity and freedom emerged along with a passion to share her insights to help others.

In Trust Your Animal Instincts, Tabitha candidly shares her incredible journey of courageous self-discovery. She learned to reconnect to that innate source of life-giving energy, that deep-seated wisdom within. She discovered a way to identify and shed the harmful pressures we put on ourselves, and discovered how to survive the burnout that comes from trying to keep pace with ever-changing technology, social uncertainty, and feeling disconnected.

From deep within the Costa Rican jungle, her own intuition emerged, with guidance from a series of wild animals.

If you're struggling to stay positive during these stressful times, you are not alone. Escape into this wild world and discover how you can recharge your life and spark positivity through your own limitless source of power. Unveil the science and spirituality of energy itself that connects us all regardless of beliefs, demographics, or appearances. (Trust Your Animal Instincts received the distinguished Nautilus Award for literary contributions that incite spiritual growth, conscious living, and positive social change. Prior Nautilus Book Award winners include Deepak Chopra, Desmond Tutu, Lynne McTaggart, Eckhart Tolle, and His Holiness the Dalai Lama.)

Scroll up and get it today! 
Genres: