Two-Part Invention
Unabridged Audiobook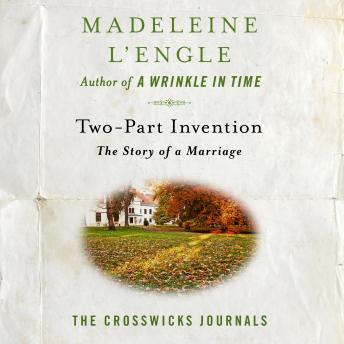 Duration:
7 hours 1 minutes
Summary:
A long-term marriage has to move beyond chemistry to compatibility, to friendship, to companionship.

As Newbery Medal winner Madeleine L'Engle describes a relationship characterized by compassion, respect, and growth, as well as challenge and conflict, she beautifully evokes the life she and her husband, actor Hugh Franklin, built and the family they cherished.

Beginning with their very different childhoods, L'Engle chronicles the twists and turns that led two young artists to New York City in the 1940s, where they were both pursuing careers in theater. While working on a production of Anton Chekov's The Cherry Orchard, they sparked a connection that would endure until Franklin's death in 1986. L'Engle recalls years spent raising their children at Crosswicks, the Connecticut farmhouse that became an icon of family, and the support she and her husband drew from each other as artists struggling-separately and together-to find both professional and personal fulfillment.

At once heartfelt and heartbreaking, Two-Part Invention is L'Engle's most personal work-the revelation of a marriage and the exploration of intertwined lives inevitably marked by love and loss.
Genres: