Undefeated: America's Heroic Fight for Bataan and Corregidor
Unabridged Audiobook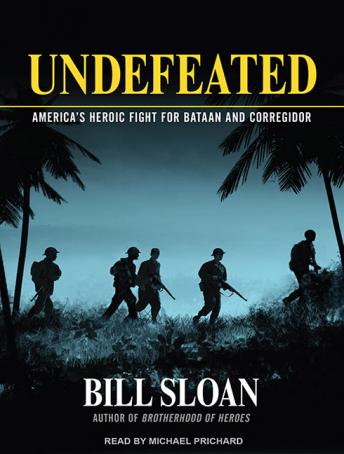 Duration:
13 hours 41 minutes
Summary:
Called 'a master of the combat narrative' (The Dallas Morning News), author Bill
Sloan captures the valor, fortitude, and suffering of the American
defenders of the Philippines as no other author has. Abandoned by their
government, the men and women of the American garrison struggled against
impossible military odds, rampant disease, and slow starvation to delay
inevitable surrender by the largest American military force ever.
Rather than picturing these defenders as little more than helpless
victims of an overwhelmingly powerful and sadistic enemy-as most
previous books about the Philippines campaign have done-Undefeated credits American troops with the unexcelled heroism and indomitable spirit they displayed under the worst imaginable conditions.Interwoven
throughout this panoramic narrative are the harrowing personal
experiences of dozens of American soldiers, airmen, and Marines. Sloan
also provides intimate, in-depth profiles of General Douglas MacArthur,
who evacuated to Australia as the situation on Bataan worsened, and of
General Jonathan Wainwright, who succeeded him as top U.S. commander in
the Philippines and himself became a prisoner of the Japanese.
Genres: