Union 1812: The Americans Who Fought the Second War of Independence
Unabridged Audiobook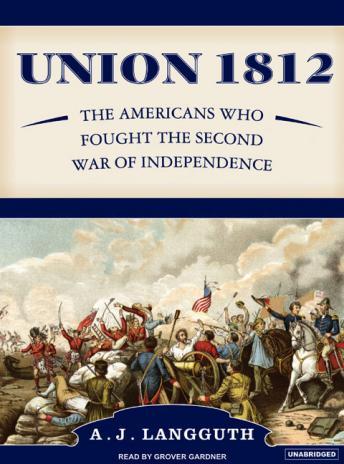 Duration:
13 hours 0 minutes
Summary:
A gripping narrative of the second and final war of independence that secured the nation's permanence and established its claim to the entire continent, by the author of the enormously successful and acclaimed Patriots: The Men Who Started the American Revolution.

This dramatic account of the War of 1812 fills a surprising gap in the popular literature of the nation's formative years. It is this war, followed closely on the War of Independence, that established the young nation as a permanent power and proved its claim to Manifest Destiny.

Full of fascinating characters-Presidents Thomas Jefferson, John Quincy Adams, James Madison, James Monroe, and the future President Andrew Jackson, as well as Dolley Madison, Sam Houston, the great Indian chieftain Tecumseh, Francis Scott Key, Davey Crockett, and Oliver Perry, among others-Langguth's riveting account covers a vast panorama of battles, from the American sacking of Toronto and the British burning of the White House and the Capitol, to the thrilling war at sea and on the Great Lakes and the final spectacular American victory at New Orleans.

Union 1812 will take its place on the history shelf of essential books on the young nation, alongside Langguth's Patriots.
Genres: