Unlocking Psychic Potential: Shining a Light on who you truly are
A free trial credit cannot be used on this title.
Unabridged Audiobook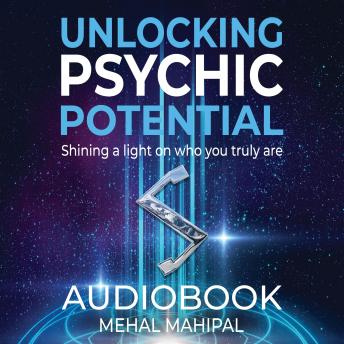 Duration:
5 hours 56 minutes
Summary:
Mehal Mahipal is a Spiritual Teacher, Astrology Tarot Card Reader, and Astroshamanic Healer. For over a decade, she has studied with mentors and teachers around the world, following her own spiritual journey and expanding her skills. Many hours of self-discovery, meditation, learning, and collaboration have led her to the creation of this book.

Her book, Unlocking Psychic Potential – Shining a Light on Who You Truly Are, is written to guide, teach and encourage you on your own path to spiritual awakening. From those beginning their journey, this handbook is the perfect accompaniment whatever your stage or level of interest to those already far along with it.

Far from being a once-only read, this book is meant to walk with you on your path to unlocking your own psychic potential. Moreover, the resources held within the chapters – from suggestions on your next steps to an expansive glossary of further reading – are the perfect addition to the journey of discovery and awakening which the reader is undertaking.


- surprising facts about psychic abilities
- explore pioneers of mediumship and healing
- learn about your personal stage of development
- discover different forms of psychic expression
- take the interactive assessments
- meditations to help you on your spiritual journey
- including an Audiobook Companion (pdf format) with over 50 colored photographs and an expansive glossary of further reading


Mehal Mahipal also offers a Psychic Development Online Course to anyone who would like to dive deeper into exploring their own psychic potential.

Check out www.unlockingpsychicpotential.com

Listen to this Audiobook and start Unlocking your Psychic Potential right here, right now.

Buy now!
Genres: