Unmaking of the President 2016: How FBI Director James Comey Cost Hillary Clinton the Presidency
Unabridged Audiobook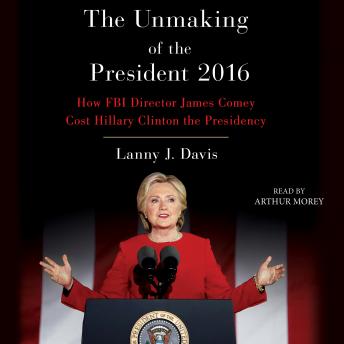 Duration:
6 hours 14 minutes
Summary:
The first comprehensive account that proves that James Comey threw the 2016 election to Donald Trump. "Compelling criticism…lapsed Trump supporters might well open their minds to this attorney's scholarly, entirely convincing proof of the damage done" (Kirkus Reviews, starred review).

During the week of October 24, 2016, Hillary Clinton was decisively ahead of Donald Trump in most polls. Then FBI Director James Comey sent his infamous letter to Congress on October 28, saying the bureau was investigating additional emails, potentially relevant to the Hillary Clinton email case. In The Unmaking of the President 2016, attorney Lanny J. Davis shows how Comey's misguided announcement—just eleven days before the election—swung a significant number of voters away from Clinton, winning Trump an Electoral College victory—and the presidency.

Drawing on sources in the intelligence community and Justice Department, Davis challenges Comey's legal rationale for opening a criminal investigation of Clinton's email practices, questions whether Comey received sufficient Justice Department oversight, and cites the odd clairvoyance of Trump ally Rudolph Giuliani, who publicly predicted an 'October surprise.' Davis proves state by state, using authoritative polling data, how voter support for Clinton dropped after the Comey letter was made public, especially in key battleground states.

Despite so many other issues in the election—Trump's behavior, the Russian hacking, Clinton's campaign missteps—after the October 28 Comey letter, everything changed. Now Davis proves with raw, indisputable data how Comey's October letter cost Hillary Clinton the presidency and America turned the course of history in the blink of an eye.
Genres: