The Valentine's Arrangement: A Hard Feelings Novel
Unabridged Audiobook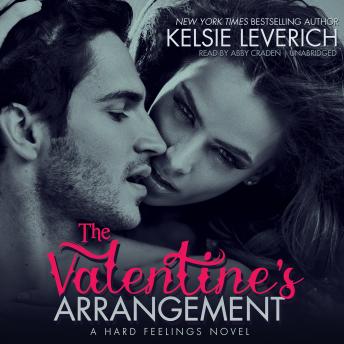 Duration:
6 hours 1 minutes
Summary:
The "emotional, spicy-hot story" (Belle's Book Bag) thatpropelled Kelsie Leverich to the New York Times bestseller list!
Tattoo artist Ronnie Clark is counting the days untilValentine's Day is over. Ronnie doesn't do romance. She doesn't do flowers ordates, and she sure as hell doesn't do love-not anymore. Love leads toheartbreak, and she's vowed never to let herself get hurt again.
Sergeant First Class Kale Emerson is home on his mid-tourleave from Iraq, but he only has one thing on his mind-returning to his soldiersto finish leading their mission. He's dedicated to his men and to his country,and he's not interested in getting wrapped up in a distracting relationship-butcasual sex, that's a different story. From the moment he sees Ronnie, he wantsher. And he agrees to her terms: no romance, no fluff-just passion.
But as their sexual chemistry ignites, the lines of theirarrangement get blurry, and Ronnie starts to push Kale away. And when Kalerealizes he's found his match in this gorgeous, razor-tongued woman who ishell-bent against love, winning her heart could be the toughest battle he hasever fought.
Genres: