Valley of the Kings: The 18th Dynasty
Unabridged Audiobook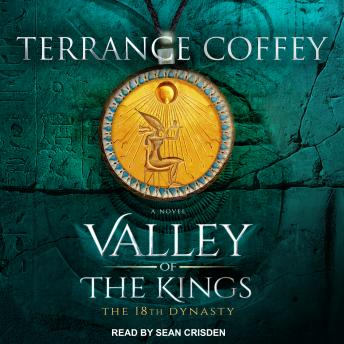 Duration:
10 hours 8 minutes
Summary:
After the untimely death of his older brother, six-year-old Prince Amenhotep IV becomes the unlikely heir to the Egyptian throne, the most powerful kingship in the ancient world. By the time he becomes pharaoh over a decade later, the growing influence of the wealthy and corrupt Amun priesthood threatens to undermine his sovereignty.

Desperate to maintain power, Amenhotep outlaws the Amun religion, renames himself Akenaten, and proclaims himself the living incarnation of a single, all-powerful deity-the Aten, or sun. With the help of his headstrong mother, Queen Ty, and his beautiful wife, Nefertiti, Akenaten erects a new capital in the desert and entices thousands of citizens to uproot their lives and join him there. But the magnificent new capital harbors a host of new threats: betrayals, curses, conniving relatives, murderous jealousies, plagues, famine, hidden heretics, and foreign enemies.

Inspired by the Hittite and Amarna letters of the 14th century B.C.E., Valley of the Kings: The 18th Dynasty is a novel of intrigue, passion, and betrayal, resurrecting the thrilling story of a singular leader whose beliefs were both visionary and disastrous.
Genres: