Valley of the Shadow
Unabridged Audiobook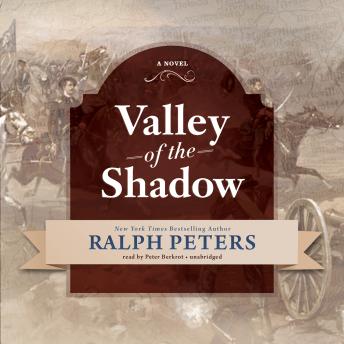 Duration:
16 hours 16 minutes
Summary:
NewYork Times bestselling author Ralph Peters returns with thethird installment in his award-winning series on the Civil War.
Inthe Valley of the Shadow, they wrote their names in blood.
From a daring Confederate raid that nearly seizedWashington, DC, to a stunning reversal on the bloody fields of Cedar Creek, thesummer and autumn of 1864 witnessed some of the fiercest fighting of our CivilWar, in mighty battles now all but forgotten.
The desperate struggle for mastery of Virginia'sShenandoah Valley, breadbasket of the Confederacy and the South's key invasionroute into the North, pitted a remarkable cast of heroes in blue and grayagainst each other: runty, rough-hewn Philip Sheridan, a Union general with anuncanny gift for inspiring soldiers; Jubal Early, his Confederate counterpart,stubborn, raw mouthed, and deadly; the dashing Yankee boy-general GeorgeArmstrong Custer; and the brilliant, courageous John Brown Gordon, acharismatic Georgian who lived one of the era's greatest love stories.
From hungry, hard-bitten Rebel privates to a pair ofUnion officers destined to become presidents; from a neglected hero who savedour nation's capital and went on to write one of his century's greatest novelsto doomed Confederate leaders of incomparable valor, Ralph Peters brings tolife yesteryear's giants and their breathtaking battles with the sameauthenticity, skill, and insight he offered readers in his prizewinning CivilWar bestsellers Cain at Gettysburgand Hell or Richmond.
Genres: