Vampire$
Unabridged Audiobook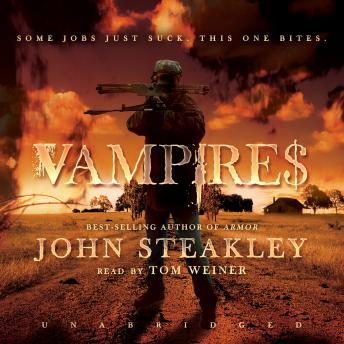 Duration:
9 hours 56 minutes
Summary:
Suppose there really were vampires. Dark. Stalking. Destroying. They'd have to be killed, wouldn't they? Of course they would. But what kind of fools would try to make a living at it?
You don't just kill vampires for the money-you do it for the satisfaction. You do it because somebody has to. You do it no matter what it does to you. And you drink-a lot. Some jobs just suck. This one bites. But nobody does it better than Jack Crow, the leader of Vampire$ Inc. His crack team of hunters takes down the blood suckers with a lethal combination of cojones and crossbows. After members of Jack's team are ambushed and slaughtered, however, the survivors need to rethink their strategy. With a new recruit from the Vatican- a priest who's not afraid to wield a stake-and a sharpshooter loaded up with silver bullets, it's payback time. The only problem is that the vampires have no intention of going down easy. They have their own hit list-and Jack Crow's name is scrawled in blood right at the top.
Bestselling author John Steakley's vampire classic is an exciting blend of horror and western genres, a twenty-first-century Ghostbusters with an edge.
Genres: