Vanity Fair: September 2015 Issue
Abridged Audiobook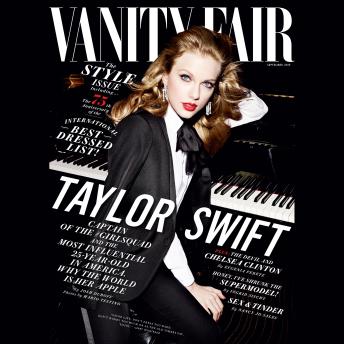 Duration:
4 hours 0 minutes
Summary:
FREE EXTRA: Download the audio version of our cover story on Taylor Swift, featuring an exclusive interview with VF.com staff writer Josh Duboff. Download the story here: http://bit.ly/1HE60Av

Which TV drama is Swift obsessing over?
Who does she look to for guidance?
What's next for the star?
This month's issue features:
Editor's Letter: Graydon Carter's introduction to the September issue
Why Taylor Swift is the captain of the #girlsquad
The late Ingrid Sischy on Karl Lagerfeld's youngest muse
Chelsea Clinton's path to power
How Tinder is changing sex and dating
Plus: Stella McCartney, Gigi Hadid, and more!

Vanity Fair is a cultural filter, sparking the global conversation about the people and ideas that matter most. With a dedication to journalistic excellence and powerful storytelling, Vanity Fair is the first choice—often the only choice—for the world's most influential and important audience. From print to social media, the big screen to the smartphone and now on audio, Vanity Fair is the arbiter of our era.
Genres: