Wake Up Your Writing @ Work: 5½ Best Practices in Business Writing for the 21st Century
Unabridged Audiobook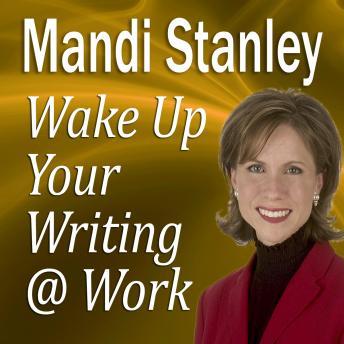 Duration:
0 hours 47 minutes
Summary:
By listening to this audio program loaded with meaningful examples, today's workplace writer will gain the hot tips, tools, and techniques for getting his written message across with the results he wants. Join CSP Mandi Stanley for just thirty minutes and learn 5½ quick, cheap, and immediately doable tips to gain credibility through the written word by
-Correcting your top dumb e-mail moves-yes, the credibility-robbing mistakes we make with e-mail that drive everyone nuts;
-Using more bulleted lists to attract all readers (correctly formatted, of course);
-Identifying and eliminating wasted words;
-Tackling the smothered verbs and stale clichés that creep into your documents;
-Pinpointing your purpose up front;
-And finally, the ½ way: the real secret to error-free writing.
After all, to quote your instructor "the quality of your writing directly reflects the quality of your work." What does your writing say about you?
Genres: