Wall Street Money Machine: New and Incredible Strategies for Cash Flow and Wealth Enhancement
Abridged Audiobook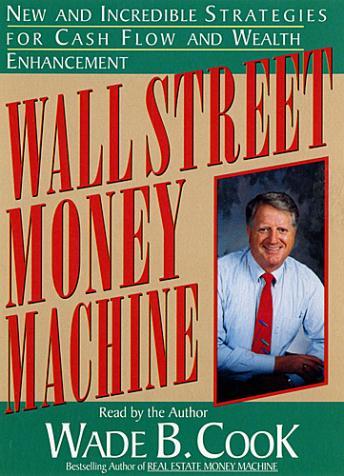 Duration:
2 hours 0 minutes
Summary:

For beginners and more experienced investors alike, Wall Street Money Machine is a dynamic and innovative guide to understanding Wall Street and making it work for you.

Wade B. Cook's is a classic rags-to-riches story: he started out as a cab driver, then became a real estate investor, author, and educator -- and he is now a renowned stock market cash-flow strategist. Wall Street Money Machine teaches the listener the secrets of his phenomenal success. In this practical, easy-to-understand program, you'll learn:

- How to double your money every 2 ½ to 4 ½ months
- How to get 14% to 34% in monthly returns -- consistently
- The inside secrets to stock options and how to turn them into a cash-flow machine
- Tips about stock splits, dividend capturing, and margin trading
- Much more about everything you need to know


With these powerful strategies, you can retire cash-flow rich.
Genres: