Watchman at the Gates: A Soldier's Journey from Berlin to Bosnia
Unabridged Audiobook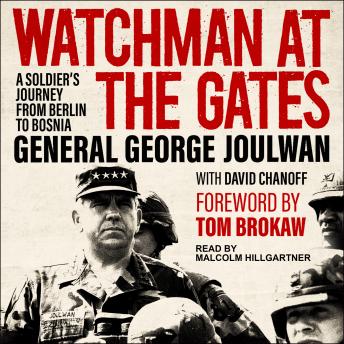 Duration:
11 hours 2 minutes
Summary:
General George Joulwan played a role in many pivotal world events during his long and exceptional career. Present at both the rise and fall of the Berlin Wall, he served multiple tours in Germany during the Cold War and two tours in Vietnam. By chance, he was recruited as Nixon's White House deputy chief of staff and witnessed the last acts of the Watergate drama first-hand.

Joulwan chronicles his career in the upper echelons of the armed forces. He shares his experiences working with major military and political figures, including generals William E. DePuy, Alexander Haig, John Vessey, and Colin Powell, US ambassador Richard Holbrooke, and presidents Richard Nixon, Ronald Reagan, and Bill Clinton. Beyond the battlefield, Joulwan became an advocate for military and civilian relations during the Vietnam War, deescalating several high-intensity situations while studying at Loyola University as part of the US Army's Option C program.

Watchman at the Gates merges memory and lessons in leadership as Joulwan pays tribute to his teachers and colleagues and explains the significance of their influence on his personal approach to command. He also reveals how similar relationships of mutual understanding were crucial in his peaceful and productive dealings with both allies and enemies.
Genres: