A Waterlogg Double Feature: The Joe Bev Valentine Treat & The Comedy-O-Rama Hour Valentine Special: Cupid Comes to Camp Waterlogg
Unabridged Audiobook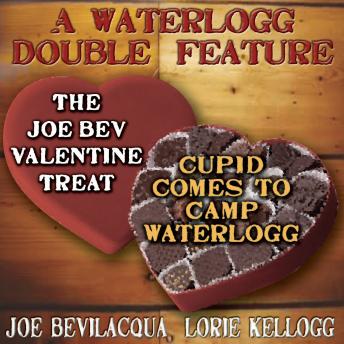 Duration:
2 hours 7 minutes
Summary:
A Waterlogg Double Feature from husband and wifeteam Joe Bevilacqua and Lorie Kellogg
TheJoe Bev Valentine Treat
This is a charming hour of stories (real andfictional) about love, hosted by veteran public radio producer Joe Bevilacqua.The hour includes "Who's Afraid of a Virginian's Wrath?," a parody of theEdward Albee play Who's Afraid of Virginia Woolf?, as played byGeorge and Martha Washington; "A Valentine from Graham Nash's Mac": On February12, 1996, an email from rock artist Graham Nash's Macintosh laptop triggered aseries of bizarre coincidences, which led to the meeting of Joe Bevilacqua andLorie Kellogg; "Ode to a Transfer Station," or "Love Poem for the Dump"; "AMathematical Valentine," in which Joe Bevilacqua tracks down his formermathematics professor, Ron Reummler, to hear how math can explain lost love; "TheLove of Lee the Horselogger," in which Joe Bevilacqua meets a man who set outin a covered wagon in 2006 to find his childhood sweetheart and fell in lovewith America instead; "Marian the Librarian Finds Love at the Bookmobile," thetrue story of love, in Marian's own words; and "Valentine Vignette," a sketchby Daws Butler.
The Comedy-O-Rama Valentine Special: Cupid Comes to Camp Waterlogg
Thiscomic one-hour radio play is written by Joe Bevilacqua and performed byreal-life husband and wife team Joe Bevilacqua and Lorie Kellogg, plus CousinKenny Savoy, Jim Folly, Tom Giannazzo, and Reagan Bonjorno Leonard. It was recordedin the woods of Napanoch, New York, and at Carolyn's on Broadway in New YorkCity.
Genres: